Reston Limousine is taking you to see the lights and sights this holiday season.
As the holiday season approaches, Washington DC transforms into a shimmering wonderland, adorned with dazzling lights and festive cheer – and there's no better way to immerse yourself in the magic than a Reston Limousine holiday light tour! The city's iconic landmarks, parks, and neighborhoods come alive with vibrant displays, creating a magical atmosphere that captures the essence of the season.
Festivities begin to take place early in the winter season, showcasing illuminated displays of monumental proportions – from 80-foot trees to actual monuments! There are a few tours and events we'd like to highlight as our favorites in the DMV to visit in one of Reston Limousine's more than 200 vehicles. Whether it be a luxury sedan or SUV, a sprinter or a motorcoach, Reston Limousine is your #1 option in luxury transportation this holiday season.
If you're interested in experiencing any of these events in person, find out all of the information and how to get tickets before calling a Reston Limousine sales representative to reserve your vehicle.

Must-Visit Holiday Light Display Festivals and Events in the DMV This Year
DC Holiday Lights – DC  National Christmas Tree Lighting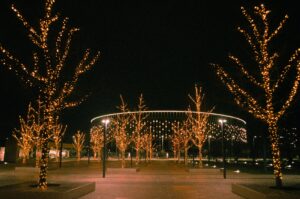 Among the world's most celebrated tree lightings, the National Christmas Tree Lighting ceremony takes place on the Ellipse, an open area located just south of the White House in Washington, D.C. The National Christmas Tree is planted on the Ellipse especially for this event. The President traditionally participates in the ceremony, either by attending in person or by providing a video message. The President, along with the First Family, usually flips the switch to illuminate the National Christmas Tree, symbolizing the start of the holiday festivities. While the window to participate in the ticket lottery has passed, you can still enjoy the tree and surrounding light displays through Jan. 1. Pick a date, then we'll help you pick a vehicle.
Baltimore Holiday Lights – Monument Lighting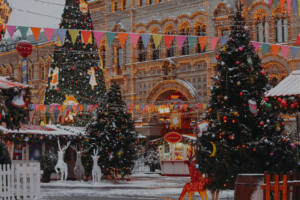 To begin the season in Baltimore, the historic Mount Vernon neighborhood will illuminate the Washington Monument on Dec. 7 with festive lights to celebrate the holiday season. Crews adorn the monument with thousands of twinkling lights, creating a spectacular display visible from various vantage points around Baltimore. The festive illumination will transform this historic architecture into a symbol of holiday cheer on December 7th. For more information and help planning your trip to Downtown Baltimore's Monument Lighting at Mount Vernon Place, visit the Mount Vernon Place Conservancy's site. Once you've made your plans, give us a call for help choosing a vehicle.
Maryland Lights – Gaithersburg Winter Lights Festival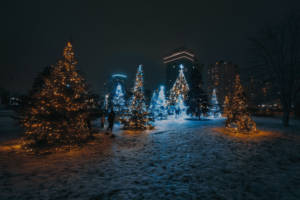 The Gaithersburg Winter Lights Festival Nov. 24-Dec. 31 is an annual holiday lights display held in Seneca Creek State Park. Rather than a lighting event, this festival features a driving tour. The festive event features a stunning exhibition of illuminated decorations and holiday-themed light displays. Visitors drive through the park to view themed light installations, including holiday scenes, animated figures, and twinkling lights. It's a magical winter wonderland, and every reason to hop in a Reston Limousine vehicle.  You enjoy the scenes; we'll do the driving! For more information on festival dates and to purchase tickets, go to Gaithersburg's website.
Northern Virginia Lights – Alexandria Holiday Boat Parade of Lights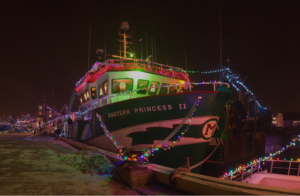 The Alexandria Holiday Boat Parade of Lights on Dec. 2 is the heart and soul of Old Town's holiday happenings this year. This festive parade features a procession of boats decked out in colorful holiday lights and decorations, creating a magical and picturesque scene along the waterfront. Meanwhile, great snacks and drinks will be available from the dockside food vendors. For more information on the waterfront festivities, and to learn more about Alexandria's Biggest Holiday Weekend, visit Alexandria's website. And seriously, skip the hassle of fighting your way to the docks – Reston Limousine is driving this time. All you have to do is reach out today!
Loudoun Lights – Christmas in Middleburg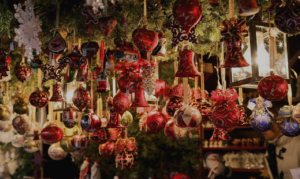 Middleburg, known for its historic charm, equestrian culture, and beautiful countryside, offers a unique and traditional holiday experience. They hold their annual Christmas in Middleburg parade, featuring festive floats, marching bands, equestrian displays, and, sometimes even Santa Claus! The parade typically winds its way through the town, delighting residents and visitors alike. They hold the tree-lighting ceremony that kicks off their multi-day parade at 5 pm Dec. 1. For more information and to view the parade schedule, visit Christmas in Middleburg. Choose a date to explore Christmas in Middleburg and we'll get you a quote on a vehicle so you can leave the keys at home.
2023 Holiday Light Displays and Events
A winter lights tour is a delightful way to get into the holiday spirit and spend quality time with loved ones. It's advisable to check local event listings for information on holiday lights displays in your area. We suggest you book now so you have your tickets ready when reaching out about riding in luxury with Reston Limousine.

Get a Holiday Lights Tour quote now!