Reston Limousine has been operating Northern Virginia winery tours for more than 20 years, and we know the Loudoun County Wine Trail like our own backyard.
When you want to enjoy a refined wine tour experience that includes an experienced driver who will pick you up at your front door and take your group on a scenic drive to DC's Wine Country, Reston Limousine is your No. 1 transportation choice. Based in Loudoun County, we have more than 200 vehicles including luxury sedans, limousines, SUVs,  vans, minibuses and motorcoaches.
When booking a Virginia winery tour, you'll want to first contact the wineries of your choice to make reservations for your party and ensure they can accommodate the size of vehicle you'll be booking. Once that's complete, contact us to book your vehicle!

Loudoun County has more than 50 wineries to choose from for your winery tour, and it can be difficult to choose where to go. Our winery tour specialists can provide you with options based on your group's preferences, or you can select one of the Top 10 Wineries that have been the most popular this year with our clients!
2023 Top 10 Wineries for a Northern Virginia Winery Tour
1. Stone Tower Winery – Leesburg Wine Tours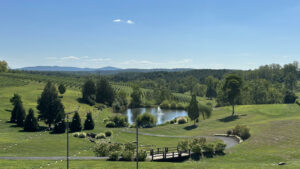 Stone Tower Winery in Leesburg is a favorite among locals and visitors alike. With its continued popularity as Loudoun County's wine venue of choice for tours and private events, it's easy to understand why it tops our list. Their commitment to producing high-quality wines makes Stone Tower a leading destination at Reston Limousine. However, the true magic is in the venue's scenic facilities. Situated atop the iconic countryside of Central Loudoun, Stone Tower Winery boasts 55 acres devoted to its vineyards and its wide variety of grapes. The winery's tasting room is spacious, inviting visitors to take in the beautiful views of their countryside vineyards while sampling curated selections and discover their favorite wines. Just hop in one of our luxury vehicles, and you've got a winery tour you'll remember forever and want to repeat. Learn more about the winery and vineyard.
2. Breaux Vineyards – Purcellville Wine Tours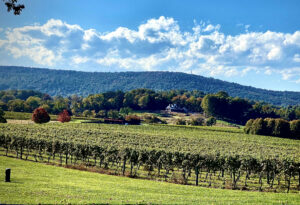 You can't list Purcellville wine tours without first mentioning the outstanding Breaux Vineyards. The Breaux family has been committed to their estate-grown grapes and producing high-quality wines since the late 1990s. Today they are known for their most popular varietals – Cabs, Merlots, and Petit Verdots, as well as the classic Viognier and Chardonnay. These are often released as single varietals but offer rich blends for every taste. Their exquisite wines speak for themselves, bolstered by continued recognition and awards. Add to that the massive 404-acre estate in the rolling hills in the heart of scenic Loudoun Valley, and you'll understand why the picturesque winery tour is high on Reston Limousine's list of customer favorites. Check out their website for more details.
3. 868 Estate Vineyards – Purcellville Wine Tours
The Town of Purcellville has three wineries on our list this year, including the esteemed 868 Estate Vineyards. The winery produces its portolio of wines from a whopping 868-foot elevation, hence the name. This range includes the trifecta of reds, whites, and rosés. The varietals and blends may vary from year to year, but as we continue to find, they are always on point. The tasting room is where visitors can sample these wines, which could be a guided tasting or self-paced. They also offer tours of the vineyards and opportunities to learn about the winemaking process. Learn more so you can plan your next trip!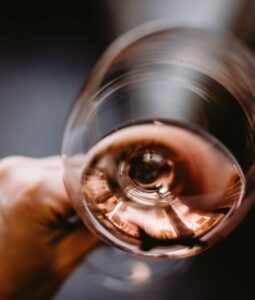 4. Otium Cellars – Purcellville Wine Tours
Third on our Purcellville wineries list is the spectacularly serene Otium Cellars. "Otium" is a Latin term that translates to tranquility, serenity, and leisure – precisely what we're looking for in our wine tour experience in the heart of the Loudoun Valley. Otium Cellars is a relatively new addition to the Virginia wine scene, and it has gained a reputation for producing high-quality wines. Let us bring you to this little slice of heaven and discover how good a winery tour can taste next to the majestic views of the rolling Blue Ridge Mountains. This one is a must-visit. For more on Otium Cellars, click here.
5. Bluemont Vineyard – Bluemont Wine Tours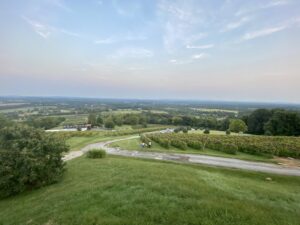 With arguably the most spectaular scenery, Bluemont Vineyards has every reason to hop in a luxury RLS vehicle and venture deeper into Loudoun County.  Bluemont offers one of the most breathtaking scenes of any vineyard in the region, featuring panoramic views of the Loudoun Valley. This view is nearly impossible to capture in a photo – you must be there to soak in the magnificence. It can be a headache to bring yourself there and climb up the road on foot after parking, or it can be the experience of a lifetime, taking in the views while traveling the elevation with us, stress-free. Either way, once there, you may never want to leave, but we're happy to bring you back time and time again! Learn more about your next trip to Bluemont here.
6. Bluemont Station Brewery & Winery – Bluemont Wine Tours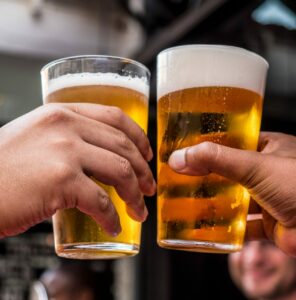 Recently gaining in the popularity of Bluemont's scenic wine country, Bluemont Station Brewery and Winery has something for everybody as it also boasts award-winning craft beers. The entire area has a charming rural feel, with opportunities to explore beyond just the vineyard. The Bluemont region is known for its diverse array of vineyards, wineries, and breweries. Combining a brewery and winery at a single location offers a varied experience for visitors looking for craft beers and fine wines. It could also just be a brewery tour. Anyway you go, it can be a lot, so let's get you there and home, safe and in style. Visit them on Facebook to learn more.
7. Cana Vineyards & Winery of Middleburg – Middleburg Wine Tours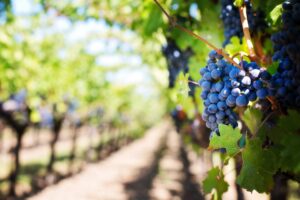 Deeper still in the vast expanse of Loudoun's wine country, Middleburg hosts its small-town charms on a 43-acre scale at Cana Vineyards & Winery. The expansive view of the hillside from the tasting room keeps us coming back. Cana wines are among the most awarded and recognized for excellence as a true Virginia winemaker. Whether it be a flight, a glass, or a bottle, the wine is always top-notch. We love their tasting room, with a unique view of the Bull Run mountains. Learn more about the vineyard here, and you'll be ready to plan your next trip with us.
8. Greenhill Winery & Vineyards – Middleburg Wine Tours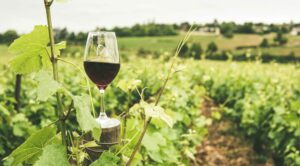 Greenhill Winery boasts a picturesque setting on a historic farm, with vistas of rolling vineyards against the backdrop of the Blue Ridge Mountains. The vineyard encompasses over 100 acres on the Greenhill Estate. A rich history here spills into each visit, with the charms of old equestrian culture combined with the ever-increasing number of vineyards. The winery offers a plush tasting experience in its historic manor house or on the scenic outdoor terrace overlooking the vineyards. The ambiance is elegant and inviting, providing an ideal setting for wine enthusiasts to explore the nuances of Greenhill's wines. Look into all Greenhill has to offer here.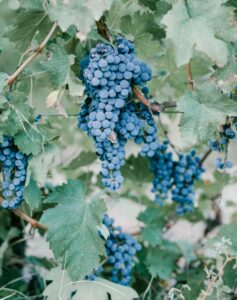 9. Quattro Goombas Winery – Aldie Wine Tours
Quattro Goombas, or "four close friends" in Italian, is a destination for friendship and camaraderie. This winery is a unique experience, as its laid-back atmosphere lends itself to the various attractions. Specifically, they are not just a winery. Quattro Goombas also boasts a brewery that crafts a variety of beers, and they offer a selection of hand-crafted pizzas and other eats and cocktails. You can sample wines in their rustic tasting room or opt for outdoor spaces that offer scenic views of the surrounding landscape.  Dive into the Goombas experience here.
10. The Barns at Hamilton Station Vineyards – Hamilton Wine Tours
The Barns at Hamilton Station Vineyards have long been popular as a premier rustic wedding venue. Set on a restored dairy farm on just ten cozy acres, this vineyard is also the smallest on the list, making its popularity as a private venue even more exclusive.  However, first-time visitors and seasoned connoisseurs are welcomed here with the utmost hospitality. Their winery offers a blend of history, charm, and artisanal wines, making it a must-visit spot for wine enthusiasts and those seeking a serene escape. Look into the winery for your next visit here.  Then, grab a sleek ride with Reston Limousine to take you there.
Loudoun County Wineries
Our list of Top 10 Wineries for a Nothern Virginia Winery Tour just touches the surface of what Loudoun County has to offer in the world of wine. Visit Loudoun, the county's destination marketing organization, is a wealth of information when it comes to all of the area's wineries.
For more information on Loudoun County wineries and vineyards, visit VisitLoudoun.org.